Food Wulingyuan
Zhangjiajie Dining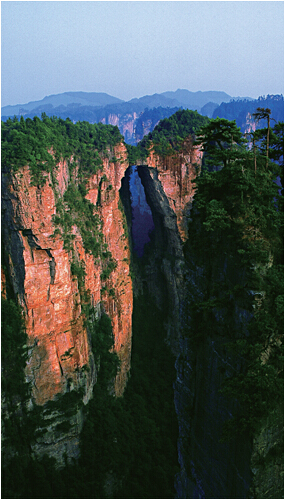 Many Chinese know that Hunan cuisine has a most outstanding characteristic - the delightful combination of sourness and spice. The cook can skillfully prepare many dishes with a delicious taste and a beautiful presentation by adding various seasonings and adopting a wide variety of cooking techniques.


In Zhangjiajie City of Hunan Province the cuisine of the Tujia ethnic minority group has its own flavor but retains the primary characteristic of Hunan cuisine - a tantalizing sour and spicy flavor. The sautéed and pickled dishes are also very special. The characteristic dishes in Zhangjiajie include Tuannian Dish, Blooded Tofu, Sour Fish, and Gastraodia Tuber with Black-boned Chicken Soup. Local flavored snacks include She Meal, Sangzhi Salted Dried Tofu, Chinese gooseberry juice, and Juhuaxin and Jinxiang Grapefruit.


Tuannian Dish is a boiled dish made with radish, bean curd, cabbage, shallot, pork, and chili. It is not only delicious but also represents a good harvest, the reunion of the family, and the remembrance of the Tujia ethnic minority group's ancestors. Blooded Tofu is actually made from pig's blood and bean curd, which is fragrant and pairs well with wine. The Sour Fish is a cured dish usually made in summer. It doesn't taste fatty or smell fishy and can be stored for a long time. In addition to these delicious dishes, one soup should be mentioned here to add allure to a meal. This soup is called Gastraodia Tuber and Black-boned Chicken Soup, a healthy, secret folk recipe made from high quality Gastraodia Tuber and Black-boned Chicken.


As for local snacks, they are uncountable. Here are some representative types that we recommend. She Meal is made with sticky rice, preserved ham, and a wild vegetable called Hao. The ingredients are fried in lard and vegetable oil. It is a tradition among the Miao ethnic minority group to eat She Meal during the 'Chun She Festival' in March. It would be a shame to visit Zhangjiajie and not try this local delicacy. Another local snack called Sangzhi Salted Dried Tofu is said to have been a popular food in Changsha, Wuhan, and Guangzhou during the Qing Dynasty (1644 - 1911). It is often given as a gift because it contains as many nutrients as milk. And those who eat the Sangzhi Salted Dried Tofu find their skin is soft and smooth, thus it is also considered a good food for maintaining one's appearance. Two kinds of special fruit called Chinese gooseberry and Juhuaxin and Jinxiang Grapefruit are also popular in Zhangjiajie. Chinese gooseberry, which is grown in Sangzhi County of Zhangjiajie City, is well-known, and the juice has a unique nature and a good taste. In addition, Juhuaxin and Jinxiang Grapefruit is often known as 'Chinese Famous Grapefruit'. They are both worth tasting.